Group Departure
| chardham pilgrimage | Date of opening | Date of closing |
| --- | --- | --- |
| Yamunotri | 26th April 2020 | 14th November 2020 - approx |
| Gangotri | 26th April 2020 | 14th November 2020 - approx |
| Kedarnath | 29th April 2020 | 16th November 2020 - approx |
| Badrinath | 30th April 2020 | 28th November 2020 - approx |
Chardham Package - Chardham Package 2020 -2021
Chardham Package is best Char Dham Yatra Tour operator in Haridwar. Chardham Yatra ( Four Abodes in Uttarakhand ) are four holy destination which are known as Yamunotri, Gangotri, Kedarnath and Badrinath respectively and doing Yatra collectively known as Char Dham Yatra or Chardham Tour. In Uttarakhnad, it is known as The Chota Char Dham tour yatra. These sacred tours are very important tour in Hindus. Every year thousands of devotees, tourists and people visit to The Char Dham by bus, car and helicopter yatra of char dham. Chardham Package is very important role to provide Char Dham Package with best price and with good facilities of Hotel etc
About Chardham Package
Chardham Package provides Chardham Yatra Pilgrimage Tour in Uttrakhand India. A complete indian pilgrimage tour packages and tourism guide on cultural sites in india. Get you favourite Pilgrimage Tours in India with Chardham Package, Religious Packages.
Chardham Package Information
Chardham Package is an initiative of India Easy Trip (P) Limited. To bring all the services related to chardham package in Uttarakhand under one website, this we help you. We deal all the customized 2020 char dham yatra tour packages, chardham hotel booking, chardham yatra by helicopter, chardham taxi service, chardham camps, Chardham Package, Chardham Travel Agent, Chardham Yatra 2020, Chardham Tour etc.

It is the most significant Hindu religious destination in the Himalayas of Uttarakhand, which is located in the Garhwal region of the state. Before, Uttarakhand was used to be the part of Uttar Pradesh. The path of Chardham Yatra passes through four Hindu pilgrimage destinations to do: Yamunotri Tour, Gangotri Tour, Kedarnath Tour and Badrinath Tour.........
Badrinath is also one of the most important parts of Bada Chardham Tour also. Along with Badrinath, three other parts of Bada Chardham in the Indian subcontinent are Dwarka, Jagannath Puri and Rameswaram. It is believed that the custom of pilgrimage to Char Dham, a seeker of Hindu truth and began the eighth-century reformer Shankaracharya. Only later, the last of the four Chardham sites, Badrinath, a sacred site, has become the main Himalayan pilgrimage road that became known as "Char Dham".

This is a Complete portal for Chardham Yatra Package. We providing best chardham yatra tour packages for 2020 with chardham hotels with car rental services. Chardham Package Offers complete helicopter service, trekking tours and also customized chota Chardham tour packages for every destination in Uttarakhand. We arrange helicopters bus, train, taxi, car and much more.
Char dham yatra start date 2020 - The journey of the Chota Char Dham takes place every year so as is also started in the year 2020 now. Char dham yatra Kapat was opened in the date of May 10 2020.. The journey has now begun again from the month of may. Every year the dates are closed for halt the Kapats of the temples and opening again, and the kapats are opened and closed with spellings and special puja worship according to Hindu Traditions.
CHAR DHAM YATRA DESTINATIONS
If you want to go on a chota char dham yatra in 2020 then the first question in your mind is going to be that the last four Dham Yatra will start from 2020. And which of the hubs are it? So far, the temple committee has completely opened the trip for Chota Char dham yatra package. The main stop of the Char Dham Yatra are - Badrinath, Kedarnath, Gangotri, and Yamunotri.
Temples to Visit in Char dham Yatra
In addition to Kedarnath and Badrinath, you can visit many temples during your Char Dham Package Yatra Tour, which include Tungnath Temple, Kalpeshwar Temple, Madhyamaheswar Temple, Mata Murti Temple, Rudranath Remple, Triyuginarayan Temple, Yogdhyan Badri Temple, Vridha Badri Temple, etc. Of this, 5 Prayags are also seen in the Chardham Yatra, which include Rudraprayag, Devprayag Kedar Marg and Karnaprayag, Nandprayag and Vishnuprayag Badrinath Marg.
Chardham Package top Destinations
Char Dham Package is a best platform to know about Chardham Destination. Chardham Package provides the best and unique information regarding Char Dham Destination like Barkot, Valley of flowers, Uttarkashi, Rudraprag etc.
Chardham Package Frequently Asked Questions (FAQs)
What is sequence to visit Char Dham ?
Char Dham Yatra in Uttarakhand is very popular and we have seen many people visit to Chardham Yatra each year in huge scale. But question arises that which Dham, we have to visit first and chardham sequence, is Yamunotri Dham, Gangotri Dham , Kedarnath Dham and Badrinath Dham. Devotees and visitors enjoy with natural surrounding during Chardham Tour. It is purely Hindu pilgrimage Yatra and these shrines are very important holy places for Hindu religion. Chardham Package deal with best Chardham tour packages
What is best time to start Char Dham Yatra ?
It is often seen that people go from April to September months to visit Chardham, Chardham Package recommends to do Chardham Yatra and the best time to visit Chardham Yatra is April, May, June and September only months best to visit Char Dham. During the months of July and August not good time to do Char Dham Yatra. If you do Char Dham Yatra during rainy season, you may have to face a lot of trouble due to rain, in which a sudden rapid rain increases the speed of falling water from the mountains and also the roads. It is possible to face trees like falling trees etc.
How to go for Char Dham Yatra ?
Chardham Yatra is very popular and every year percentage of visitors increasing so devotees and people faces many problems like not getting hotel on time and other such problem can be done. It is better to do Chardham Tour with the help of any Char Dahm operator, Tour operator is best option to book your hotel and car etc and Chardham Package is one of the best Chardham Yatra operators in Haridwar.
What are very important for Chardham ?
Devotees are highly suggested by Chardham Package
Before going to any temple of Yamunotri, Gangotri, Kedarnath, Badrinath and Chardham, you should remove shoes and slipers.
Don't go for Chardham in rainy season.
Carry only things which are very essential link blanket, shoes, and torch etc.
It is very cheap to do yatra itself but have to book Chardham Package through any travel agent.
You must have to carry your medicine because evry medicines are not available everywhere.
Don't drink and eat meat during the Chardham Tour yatra.
In winter season must carry worm clothes and summer just simple clothes.
You can also carry sweets, toffees, dry foods and any energy gained items, it helps to gain more energy and power to body.
What is Chota Chardham Yatra ?
Chardham Package provides Chota Chardham tour packages. Chota Char Dham Yatra is very popular holy Yatra in Uttarakhand. First devotees visit to Yamunotri is dedicated Goddess Yamuna which is known as source of Yamuna River. After visiting Yamunotri then go to Gangotri temple is located in Gangotri and it is an origin of The Holy River Ganges. Both Yamunotri and Gangotri Dham are in Uttarkashi district of Uttarakhand. Further Devotees go to Kedarnath Temple is located in Rudraprayag district of Uttarakhand and here lord Shiva worshiped. Next to Badrinath Temple in Chamoli district of Uttarakhand and Badrinath is a holy place as well as nagar panchayat. Badri Narayan and Badri Vishal are the name of Badrinath and this temple dedicates to lord Vishnu.
What is the cost of Chardham( 4 Dham) Yatra ?
Chardham Package deal with best price of Char Dham tour packages. The cost of Char Dham complete Yatra will be Rs. 21,999 -/ PP* for 9 nights and 10 days in which breakfast, lunch, dinner, hotel and Bus or Car included and It is group departure char dham yatra. Chardham Yatra starts from Haridwar. Then devotees can also enjoy the Himalayan beauty which is surrounding during Char Dham Yatra ( Yamunotri, Gangotri, Kedarnath and Badrinath Yatra). For booking and more info clik here
2020
Char Dham Package

Services

Get complete services of Chardham Yatra Package 2020 and we arrange helicopters, hotel, camps and bus, train, taxi or car etc.
What People Say About Us
Dr. R Patil
From Orlim, India
The whole trip was good it was totally 8 nights and 9 day trip. Team (taxi, package, hotel) is so helpful and friendly They also helped us to book helicopter ride to Kedarnath without any extra cost which is very good help from them, they are honest people, we had good trip and good memories.
The overall trip arrangement was excellent. We took a package which included Gangotri, Kedarnath, badrinath. The driver and trip advisor were excellent and supportive. The arrangement and locations of hotels were very good especially the hotel at Uttarkashi. They have very well maintained vehicle.
Mr. Satyajit
From Gujarat, India
We visited Gangotri and Kedarnath with India Easy Trip and completed yesterday. It was a nice experience and they have made arrangements beautifully. Also Ashish and Driver ( Pawan) has guided well and for them we can be able to see Kedarnath Dham properly. As most person could notbe able to do Darshan Kedarnath.
Chardham Map (Yamunotri, Gangotri, Kedarnath and Badrinath)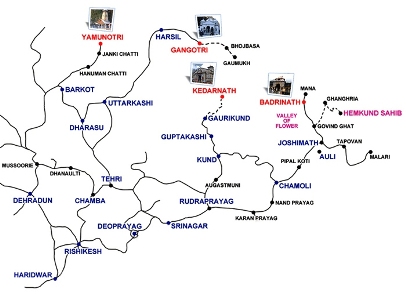 Our Partners and Affiliations