| | |
| --- | --- |
| Duration : 11 Nights / 12 Days | Ex Delhi |
| Destinations : HARIDWAR (2N) + Barkot (2N) + UTTARKASHI (2N) + GUPTAKASHI /RAMPUR/SITAPUR (2N) + KEDARNATH(1N)+ BADRINATH (1N) + RUDRAPRAYAG(1N) | Price Per Person - INR 22900 |
| | Introductory Offer before 30 March 2018. |
| | Book Now @ 2100 INR Only (Non Refundable). |
| Validity : Apr to Jun 2018 | Rest Amount is Payable Before 15 Days of Arrival. |
| MONTH | EX DELHI (11N 12D) |
| --- | --- |
| May 2018 | 02,04,06,08,10,12,14,16,18,20,22,24,26,28,30 |
| June 2018 | 01,03,05,07,09,11,13,1517,19,21,23,25,27,29 |
| September 2018 | 08,15,22,29 |
| October 2018 | 08,15,22,29 |
Day 01: Delhi – Haridwar (230 Km / 6 to 7 hrs)
On arrival at Haridwar, check in to your hotel. In the evening, proceed to Har Ki Pauri to enjoy Ganga Aarti on the banks of Ganges. Dinner and Overnight stay at Haridwar.

Day 02: Haridwar – Barkot (205 Km / 7 to 8 hrs)
This morning depart for Barkot, located on the foot of Yamunotri. Drive via Mussoorie and visit Kempt Falls on the way. On arrival at Barkot, check-in to your hotel/camp. Rest of the day is free to relax and store your energy for the Pahad (hiII) Yatra of Yamunotri the next day. Dinner and Overnight stay at Barkot.

Day 03: Barkot/ Kharsali– Yamunotri – Barkot (48 Km / 2 hrs & Start trek 05 KM Each Side)
After breakfast, depart for Hanumanchatti (40 Km), Janki Chatti (8 km). Here you will begin the First Pahad Yatra of Yamunotri (5 Km trek). You can hire a Doli or a horse, for your trek (Cost Not Included). The trek passes through lush green valley, a profusion of conifers, rhododendrons, cacti and several species of Himalayan shrubs. Yamunotri (altitude 3,291 m), the western most shrine of the Char Dhams, is dominated by Banderpunch (6,361 m). Yamunotri is the source of the river Yamuna, the twin sister of Varna, the Lord of Death. Yamuna is also the daughter of Surya the Sun. The actual source of the river originates from Champasar Glacier 1 km a head of the shrine, at an altitude of 4,321 mts. On arrival by afternoon in Yamunotri take holy dip in Yamuna River and perform Pooja, and take the same route back to Barkot, check in at Hotel / Camp. Dinner and Overnight stay at hotel in Barkot.

Day 04: Barkot – Uttarkashi (100 Km/ 4 hrs Journey)
After breakfast check out from the Barkot hotel and drive to Uttarkashi. On arrival check in into the hotel. Uttarkashi is situated on the banks of river Bhagirathi and is famous for its historical monuments, Temples & Ashrams. In the evening, Visit the famous Vishwanath Temple. Dinner and Overnight stay at Uttarkashi.

Day 05: Uttarkashi – Gangotri – Uttarkashi (100 Km / 3 to 4 hrs Each Side)
Early morning breakfast at hotel and drive to Gangotri. Nestled in the magnificent Garhwal Himalayas, Gangotri is set at an altitude of 3048 mts. Upon arrival at Gangotri take a holy dip in the sacred river Ganges which is also called Bhagirathi at its origin Visit the Gangotri Temple. The 18th century's temple dedicated to Goddess Ganga is located near a sacred stone where King Bhagirathi worshipped Lord Shiva. Ganga is believed to have touched earth at this spot. The temple is an exquisite 20 ft. high structure made of white granite. After performing Pooja Late afternoon drive back to Uttarkashi. Dinner & Overnight stay at Uttarkashi.

Day 06: Uttarkashi – Guptkashi /Sitapur (190 Km / 8 to 9 hrs)
After early morning breakfast check out from the hotel and drive for Guptkashi/Rampur/Sitapur. On arrival check in at hotel. Rest of the day free to explore the Guptkashi town. Dinner and Overnight stay in Guptkashi/Rampur/Sitapur hotel/Camps.

Day 07: Guptkashi – Sonprayag – Kedarnath (30 Km + 20 Km trek)
Early morning after breakfast check out from the hotel and drive to Sonprayag. From where, you will start your 20 km trek to Kedarnath. You can hire a Doli or a horse, for your trek (Cost Not Included). Mandakini, one of the main tributaries of the Ganges originates at Kedarnath and flows through Gaurikund. Trudging with you are pilgrims chanting "Jai Bholenath." Sometimes the mist would envelop the mountains and slowly lift away, revealing a shiny blinding-white peak that threatens to rupture the skies. On arrival check in at Govt. Camps/Lodges. Dinner and Overnight at Govt. Camps/Lodges.

Day 08: Kedarnath – Sonprayag – Sitapur/Rampur (20 Km trek down and 05-10 Kms hotel drive)
Early morning you get up before dawn and after taking bath you are at the temple by 4:45 am for the 'Abhishek' to Kedarnath Shiva. Everyone can go inside Garbha Griha and touch the idol. You can also prostrate with your head touching the deity etc. After darshan and puja you come out of the temple and return to the Camps / Lodges. Later you'll start the return trek of 20 km from Kedarnath to Sonprayag. The vehicles wait for you in Sonprayag Car Parking and you'll drive to your hotel (Sitapur). Dinner and Overnight at Sitapur Or Rampur.

Day 09: Sitapur/Rampur/Guptkashi – Joshimath – Badrinath (190 Km 0r 240 Kms / 8to 9 hrs)
This morning, you check out of the hotel at 08:00 am and drive to Badrinath via Joshimath. After driving through some wonderful Ghat road you arrive at Badrinath. On arrival check into the hotel. After some rest and refreshments you are all set to go to Badrinath Temple for darshan in the evening. But first you have to go to Tapt Kund (Hot Spring), take bath and then go to the temple. Dedicated to Lord Vishnu, the temple of Shri Badrinath Ji is 15 meters in height, built in the form of a cone with a small cupola of a gilt bull and spire. Later back to hotel. Dinner and Overnight stay at hotel.

Day 10: Badrinath – Joshimath – Rudraprayag (165 Km / 5 to 6 hrs)
This morning, go for Badrinath darshan. After darshan return back to hotel, breakfast at hotel and proceed for Badrinath local sightseeing visit Mana Village, Vyas Gufa, Ganesh Gufa, and Mata Murti temple. Afternoon driver back to Rudraprayag via Karanprayag. Rudraprayag is a small pilgrim town on the holy confluence of river Alaknanda and Mandakini. On arrival check in at hotel. Rest of the day free to explore the Rudraprayag town. Dinner and Overnight stay at hotel.

Day 11: Rudraprayag –Srinagar-Devprayag- Rishikesh – Haridwar (160 Km / 5 to 6 hrs)
Early morning, after breakfast, you drive downhill to Rishikesh a spiritual city and the Yoga capital of the world. On reaching Rishikesh you'll do the Rishikesh sightseeing visit Ram Jhula and Laxman Jhula. Evening drive to Haridwar. On arrival check in at hotel. Dinner and Overnight stay at hotel.

Day 12: Haridwar – Delhi (230 Km / 6 to 7 hrs)
Morning breakfast at hotel, and you are on your last lap of this Chardham Yatra journey. Drive back to Delhi. On reaching Delhi transfer to Railway Station / Airport.
HOTEL DETAILS
We select accommodations that reflect the character of the destination. This could mean a handpicked Hotels with Best of the Wholesale prices
The Urmi Haridwar – HARIDWAR
The Urmi Haridwar is located 7 km from the Haridwar Junction Railway Station. This hotel offers internet access within the premises.



Distance from Hotel

| | | | | |
| --- | --- | --- | --- | --- |
| Bus Station | Chandi Devi Temple | Har Ki Pauri | Jolly Grant Airport | Mansa Devi Temple |
| 6 | 7 | 4 | 35 | 8 |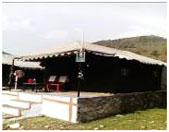 Camp River View – Barkot
River view camp is located in the foothills of Himalya at a distance of 35 km from Yamunotri and 7 km from Barkot with all the colorful vibrancy of nature gilded doorstep. River yamuna flowing next to the camp make it a serene place and an exotic place to stay in .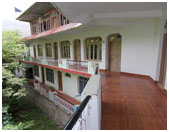 Hotel Riya Residency, Barkot
Hotel Riya Residency, Barkot offers ample of parking space within the hotel premises for your vehicles. This property comprises of 12 guestrooms equipped with comfortable bed, bottled drinking water, clean bedding and hot/cold water supply.

Distance from Hotel

| | | | |
| --- | --- | --- | --- |
| Bus stand | Bus stand | Gangotri Dham | Yamunotri |
| 3 | 3 | 135 | 45 |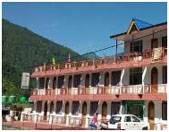 Ganga Putra Annexe Hotel – UTTARKASHI
GP Annexe Hotel is a standard hotel offering basic accommodation and tasty food facilities. This hotel is situated at the picturesque Netala of Uttarkshi, blessed with natural beauty of majestic Himalayan Mountains and sacred rivers.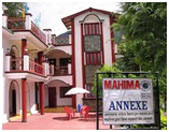 Mahima Resort - UTTARKASHI
Mahima Resort is located in the vicinity of Uttarkashi which is one of the low budget accommodations that offer comfortable stay with basic facilities for a relaxing and peaceful holiday. The resort offers room service and front desk attendant 24 hour, there is a parking space for private vehicles in the resort, luggage storage and laundry facility and for emergency situation backup generator is also available at the resort.

Distance from Hotel

| | |
| --- | --- |
| Shakh Temple | Vishwanath Temple |
| 6 | 5 |
Hotel Jagatraj, Sitapur
Situated beside Mandakini River and closest to trek starting point SonPrayag, is a standrad accommodation in Sitapur featuring an on-site restaurant. All hotels rooms are geyser and Tv  inbuilt. Hotel is famous among the tourist because of its convenient location specially for the trekkers to Kedarnath Ji Shrine.

Hotel Giriraj, Rampur
Situated approximately 10 km away from Guptkashi with nice view of Mandakini River it is decent accommodation featuring an on-site restaurant. Rooms are centrally hot ruuning water facilities.

Distance from Hotel
| | | | | |
| --- | --- | --- | --- | --- |
| Guptkashi Bus Stop | Phata | Mandakini River | Triyugi Narayan Temple | Son Prayag/Gaurikund |
| 20 | 10 | 0 | 06 | 01/03 |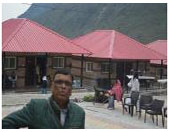 The GMVN Camps and Cottages – KEDARNATH
Amidst the mountainous and majestic Kedarnath range stands the GMVN Camp, an ideal spiritual getaway. There are double and and multiple occupancy weather proof tents, which are facilitated with first-aids and oxygen cylinders.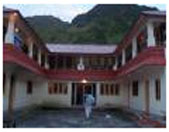 The Bikaner House– KEDARNATH
Amidst the mountainous and majestic Kedarnath range stands the Bikaner House, just beside the Kedarnath Ji Shrine. There are well appointed rooms with hot water bucket supply or geyser facilities. Its really amazing being here when you are few steps away from Kedarnath Ji Temple.

Distance from Hotel

| | | |
| --- | --- | --- |
| Gaurikumd | Sonprayag | Guptakashi |
| 21 | 23 | 48 |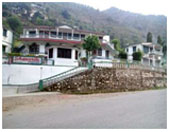 Hotel Shangrila Resort – RUDRAPRAYAG
Hotel Shangrila Resort situated in Rudraprayag offers free internet access facility to its patrons. It is located at a distance of 4 km from Rudraprayag Bus Stand.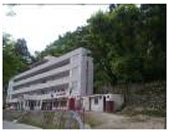 Hotel Pushpdeep Grand – RUDRAPRAYAG
Hotel Pushpdeep Grand - is a newly furnished, fully Air-conditioned Hotel with International Standard *** Star Luxuries located near main city, main market and sangam at N.H. – 58. professionally and elegantly furnished with an aesthetical ambience, supported by a team of highly experienced professionals. Hotel Pushpdeep has state of the art ultra modern facilities, amenities and services.

Distance from Hotel
| | | |
| --- | --- | --- |
| Jolly Grant Airport | Rishikesh Raiway Station | Rudraprayag Bus Stand |
| 150 | 130 | 4 |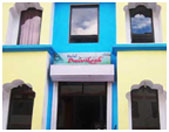 Hotel Dwarikesh – BADRINATH
Hotel Dwarikesh is located at a walking distance (0.5 km) from Haridwar Railway Station.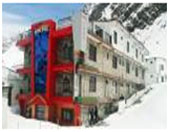 Hotel Yoga – BADRINATH
Hotel yoga is the best budget accommodation hotel in Badrinath Uttarakhand. It is situated just 500 meter from Badrinath temple. Each of these rooms and suites are designed keeping in mind the needs and tastes of both business as well as leisure.

Distance from hotel

| | | |
| --- | --- | --- |
| Badrinath Temple | Mana Village | Bus Stand |
| 200 Meters | 01 KM | 100 Meters |
VEHICLE DETAILS
FORCE/Mahindra Tempo Traveller(12) / 27 Seated Push Back Bus
Our cars/buses are commercial registered , GPS enabled and Clean new age Cars. Our Vehicles is checked and replaced on a regular basis with spot checks by our Operations Manager
No. of Vehicle :1
No. of Seats :12 PUSHBACK / 22 Push Back (Out of 27 Seats)
Luggage Space :12 PIECES IN TT & 27 PIECES IN PB / NA ON TOP

| | | | | | | |
| --- | --- | --- | --- | --- | --- | --- |
| Courteous | Music System | GPS Enabled | Multipin Charger | Clean Car | Soft Tissue | Top Carrier |
Book Now Chardham Fixed Departure Tour 2018
YOUR TRIP INCLUSIONSS
YOUR TRIP EXCLUSIONS
. Sightseeing as per the itinerary & program you opt as per your comfort.
• All buffet breakfast & dinner at the hotels mentioned.
• All accommodation days on double / triple sharing basis as per your choice
• All Transfers, excursions & sightseeing as per the itinerary by dedicated vehicle in private use
• Below 5 Yrs Child sharing same bed with parents will be Complimentary.
• Parking and all transport related expense including Driver Services
• All toll taxes, parking fees, Fuel and driver's allowances.
• All Transport & Hotels Related Taxes
• GST & all Government Taxes
• A 24 - hour helpline.
• Assistance on Arrival.
• No Hidden Cost
• Personal expenses such as laundry, telephone calls, tips & gratuity,mineral water, soft & hard drinks, porterage.
• Anything not mentioned in the inclusions
• Additional sightseeing or extra usage of vehicle, other than mentioned in the itinerary
• Entrance Fees & Guide charges
• Any cost arising due to natural calamities like, landslides, road blockage, political disturbances (strikes), etc (to be borne by the client, who is directly payable on the spot)
• Any increase in Airlines taxes or fuel price at the time of departure, leading to increase in cost on surface transportation & land arrangements, which may come into effect prior to departure
• Still camera/ video camera charger
NOTE
• Rates are not valid for Festive peak season.
• Rates are based on Hotels Subject to Availability at the time of making Reservation.In case of unavailability in mentioned hotels, alternate accommodation will be arranged in a similar category hotel.
• Rates are subject to change if there is any Fair & Festival, Major conference, events in travel destination.
• Early check in / late checks out is subject to availability of rooms. In Chardham sector maximum hotels are preferring 12:00 Noon Check in & Check out timing.
• Cancellation charges would be as per the company policy.
• Vehicle confirmed will be as per Itinerary and not at disposal. AC will work only in the plains and will be switched off during hill drives. Specially for the Chardham sector Ac can work only in Haridwar & Dehradun's plain / surface area. It is highly depending on the package you have opted.
• All sightseeing mentioned are subject to weather conditions, political conditions & traffic conditions in the destination.
• Any cancellation or delay in hotel check in due to third party services (like helicopter / pony / palaki ) , the retention will be charged. The next allocation for the hotels on same destination is subject to the availabilities.
• Any sightseeing missed due to natural calamities / weather conditions / for any unforeseen reasons is non-refundable or non-adjustable.
• All entrances fees will be on direct payment basis as per Itinerary
• It is not advisable to travel in night, if necessary supplement charge applicable
PAYMENT POLICY
• Deposit of 25% of the package cost at the time of booking.
• Need 50% payment of the package cost, 30 days prior to departure date
• Need 100% payment of the package cost, 15 days prior to departure date.
CANCELLATION POLICY
• 10% of full tour cost - 45 days prior to arrival.
• 25% of full tour cost - 30 days prior to arrival.
• 50% of full tour cost - between 15 & 29 days prior to tour.
• 75% of full tour cost - between 14 & 7 days prior to tour.
• 100% - within 7 days prior to tour.